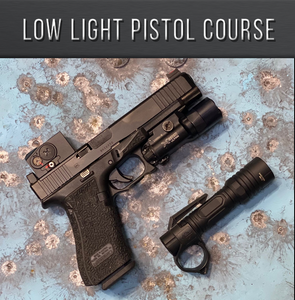 This course is designed to identify deficiencies and enhance the skill level of all shooters from novice to advanced during light compromised environments with a pistol. It is our belief that there are no levels to a gunfight, therefore we do not teach that mindset. However, we do believe that fundamentals are paramount, so we build off of that principle.

In the real world, the bad guys have the advantage of choosing when and where they will attack. The majority of those encounters occur in low light environments. Whether dealing with indoor or outdoor, no light or low lighting situations, this course covers the importance of light selection (weapon mounted or handheld), effective techniques in deploying your choice of light, accurately engaging your targets while deploying your light, and techniques for effectively communicating, controlling an area, navigating, threat Identification and searching with a light.

We will cover: marksmanship, combat shooting, shooting on the move, shooting from unconventional shooting platforms (usp), and shooting from cover/concealment. 
Upon completing this course, the student will be proficient in employing a pistol effectively and accurately during no-low light situations.